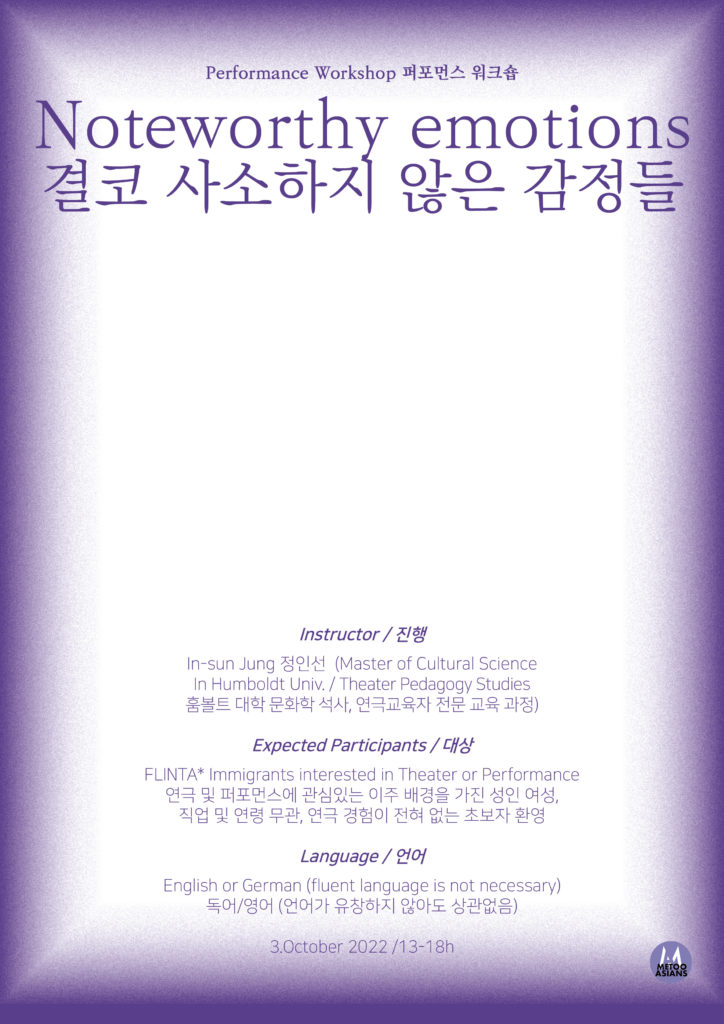 Having uncomfortable feelings from having an immigration background has always been a part of our life. 
After speaking up against such uncomfortable situations and addressing our feelings, a lot of us, Asian FLINTA*, have experienced being negated and told that those experiences were not discriminatory and we are being too sensitive. These comments would trigger anger and confusion in us. They would make us question our own beliefs and feelings and ask ourselves if we are indeed overreacting to small things. 
Sometimes we regret not having expressed our uncomfortable feelings.
Cathy Park Hong, a Korean American author, wrote in her book, [Minor Feelings], that these uncomfortable feelings are not at all minor. During the Performance Workshop, Cultural Event from the Metoo Asians e.V., we will learn various ways to express our feelings using our bodies and to speak out clearly.
The performance will take a different format than traditional theater pieces that follow scripts. Instead, we will be creating our own performance by learning to express ourselves, our individual and shared experiences with bodily movements and sounds.
At this workshop, we will learn different ways of expressing our emotions than in spoken and written language, creating a space for ourselves to feel emancipated by telling our stories on stage.
.
Date and Place: 3rd October, 2022. 13-18:00 / Korea Verband e.V. Quitzowstr. 103, 10551 Berlin
Expected participants: All Asian FLINTA* who are willing to learn how to perform
Language: English and German (being fluent is not necessary)
Instructor: In-sun Jung (Master of Cultural Science In Humboldt Univ. / Theater Pedagogy Studies)
Pre-registration: https://forms.gle/YoieNjL51EQmnspb6